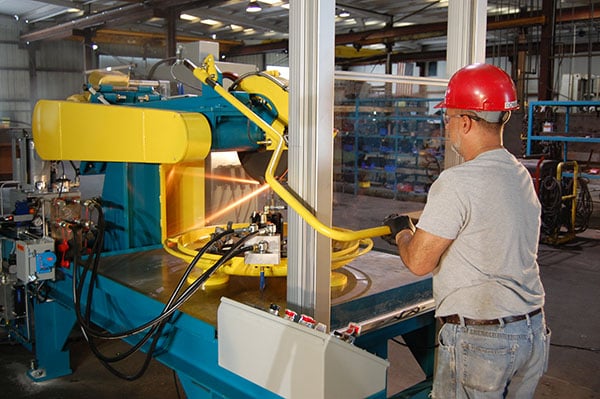 The Fox® Air Float Cut-Off machine is ideal for gate and riser removal on small to medium size castings or castings on runner bars or trees. The unit is excellent for small to medium production runs since fixtures are very easy to change and generally no other settings are required. It is ideal for castings that are too heavy for operator handling as the air float feature makes moving several hundred pounds almost effortless. Once the casting is fixtured, cutting can take place anywhere around the periphery since the floating gondola allows for fast, easy positioning and repositioning of heavy casting trees or individual parts. The abrasive cutting is rapid using the hydraulic down pressure system. If the gate or riser is on a flat surface, additional grinding may be eliminated or greatly reduced.
The Fox® Air Float Cut-Off machine incorporates a hydraulic down pressure system and air floatation table with appropriate hydraulics and controls. The unit incorporates a vacuum hold-down system for the fixture gondola, so the gondola is secure during cutting. The casting gondola is designed to accommodate interchangeable fixtures to secure the castings, increasing the flexibility of the system as a whole. A low power laser is mounted to the machine providing a vivid red line where the cut-off wheel will descend aiding in the alignment process. The unit is simple to use:
The operator installs the proper fixture in the gondola
He then secures the casting in the fixture
The air flotation feature is activated by depressing a foot pedal and applying air to the gondola pads
The gondola is effortlessly moved until the desired gate is under the saw and aligned with the laser
The fool pedal is released applying vacuum to the gondola
The saw is pulled down manually until it just makes contact with the casting
As soon as a small "scoring" cut is made, a push button in the end of the handle bars is depressed applying the down pressure to the cut
The saw is forced down through the material
When the sawing is completed, the push button is released and the saw raised
The casting can be quickly repositioned or moved to the edge of the table and removed from the fixture
The airfloat incorporates many safety features to protect the operator such as a retractable wheel guard and a impact resistance window.
Several options are available to increase the flexibility of the machine
Powered raise and lower table
Extension tables
Completely enclosed units
Horizontal travel
General specifications include 40 horsepower motor, standard 20" or 24" wheel sizes operating at 14,200 SFPM and Blanchard ground table. All electricals, hydraulics and pneumatics are included and installed so the machine is ready to run when received.
Contact Vulcan Engineering today - we can help with any questions you might have, about the Fox® Air Float Cut-Off, or anything else!