Robotic Aluminum Cutting Cell
Vulcan has considerable experience in the integration and creation of unique solutions using robots for metal removal applications as well as highly efficient automated systems. We engineer systems that use industrial robots to automate common tasks such as mold handling, mold pouring, casting finishing, and casting inspection. We recently completed a project that incorporated a Fanuc robot equipped with a carbide tipped saw to remove gating from aluminum automotive castings inside of an enclosed cell.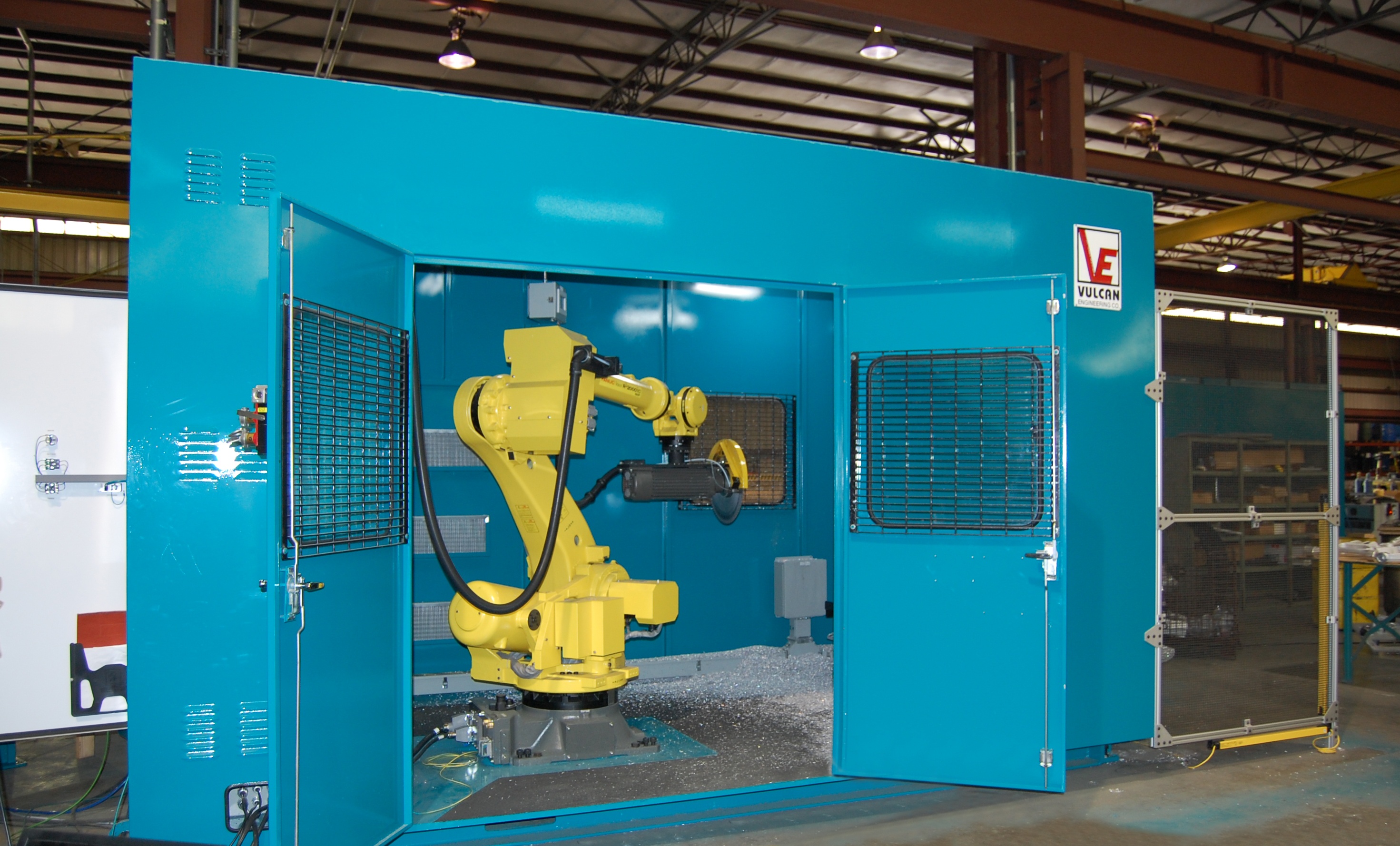 The customer was looking for a way to quickly cut gating away from two different aluminum permanent mold castings using automation. At first, the customer was using a band saw to manually remove gating which was inefficient, unsafe, and time consuming. Then, they looked to a robotic solution. Originally, they purchased a robotic cell from another supplier but kept running into problems caused from working in the harsh foundry environment.

During a visit to Vulcan Engineering Co. in Helena, AL, the customer was impressed with the foundry duty design, quality, durability, and User-Friendliness of the demonstration and in process Robotic Cells. This raised their confidence that we could deliver and meet their requirements.

Meeting cycle times in order to keep up with production was one of the main goals. Since the customer already used Fanuc robots elsewhere in the plant, they requested a Fanuc brand robot be incorporated into the system.

Based on the foundry proven Foxall design a machine was configured to meet their needs. The system's standard capacity is up to 400 lbs. (181.4 kgs) including tooling and casting, though their parts are aluminum and vary between 45 – 65 lbs. The entire system is a self-contained, modular construction with simple utility hookup for easy installation and/or relocation. This includes easy programming, online or offline with user-friendly controls and an easy to use touch screen operator interface.

The Load/Unload turntable enables the operator to load and unload parts during the robot work cycle, significantly increasing utilization and throughput. Simple fixtures and clamping arrangement for minimal tooling cost and maximum access to castings were developed and ran off at Vulcan. Using a larger turntable allows two castings to be processed in the cell at one time, providing high throughput.

This robot-based casting cutting cell is the solution they were looking for. Easily programmed and ideal for high casting throughput, this system allows for quick changeover from job to job. Typically, setup can be easily accomplished in less than two (2) minutes. Cycle times, depending on the part, are between 90 and 225 parts per hour.

If you would like more information on how Vulcan can help your cutting or finishing operation, please contact us. Vulcan can provide solutions for all metal types used in the foundry industry. We can assist in finding out the most efficient and effective way to cut and/or grind parts, speed up cycle times, and reduce the amount of wasted material. Or take a look at some of the equipment we have available here on our website.