Vulcan's new traveling grinder offers a larger work envelope as well as updated controls and hydraulics systems.
Vulcan Engineering Co. introduces its newest addition to the Mid-West Machine™ line of Metal Conditioning Equipment with the 6840T. This Traveling Grinder incorporates a longer boom, providing a larger work envelope to process material within 68 inches (1725 mm) horizontal, 40 inches (1015 mm) vertical reach.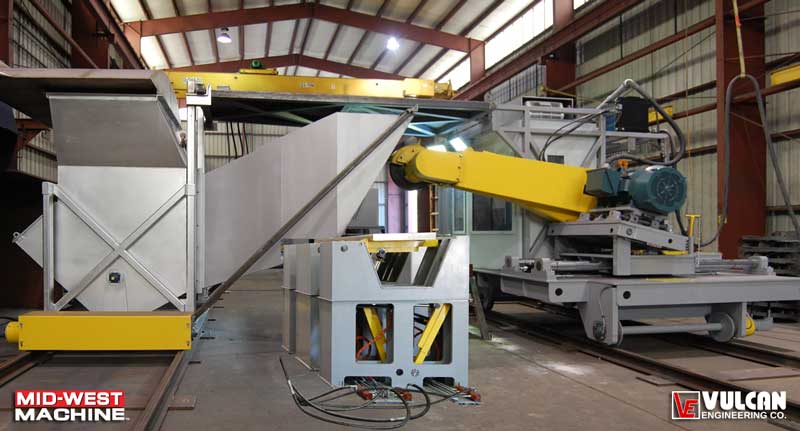 Mid-West Machine™ Grinders are designed to work effectively in rugged, dirty environments. Engineered for maximum up time with the highest quality components and innovative designs that are assembled and arranged for easy service. The primary purpose of these machines is for conditioning of Steel Alloys and Titanium in a variation of sizes and shapes such as rounds, slabs, blooms, octagons, and squares.
Working with a current owner of Mid-West Machine™ Traveling Grinders, Vulcan was tasked with providing a Traveling Grinder Solution to condition slabs up to 66 inches (1675 mm) wide. Vulcan met the challenge of designing a new machine that handles a larger work envelope while maintaining the long lasting, reliable equipment that Mid-West Machine™ users expect. The customers needed a solution that could meet the new production requirements they obtained as well as process wider material. In order to offer a machine that was comparable to the grinders they have been using for many years, our team created an innovative design similar to the dependable 6040T. Thus, the 6840T was created.
While it is based on a machine that has been built for years, the Mid-West Machine™ 6840T Traveling Grinder also incorporates several updates to further improve safety, commonality of parts with other models, ease of operation, to provide greater operator comfort, increase productivity, and to lower maintenance costs. Additionally, the new operator cab is much quieter than previous models by integrating thicker insulation. The cab also contains updated intuitive controls.
Optional additions are available such as Load/Unload Tables, Round Rotators, Slab and Square Billet Manipulators, and an updated Swarfbooth System. The newly redesigned Swarfbooth System provides updated controls to synchronize the movement of the swarfbooth with the grinding machine. By updating the hydraulic drives and incorporating a linear transducer, this allows the Swarfbooth to maintain position with the Traveling Grinder. Now, the Swarfbooth mirrors the movements of the traveling grinder allowing for more efficient swarf collection.
The 6840T offers the same long lasting, dependable design that Mid-West Machine™ users are accustomed to, while providing more reach, new controls, updated hydraulics, and increased productivity compared to older machines. Depending on your needs, it is available with either a dead shaft or live shaft spindle. Please visit our website for more information on all Mid-West Machine™ equipment, or contact us today and get more specifications on how the 6840T could benefit your operation.