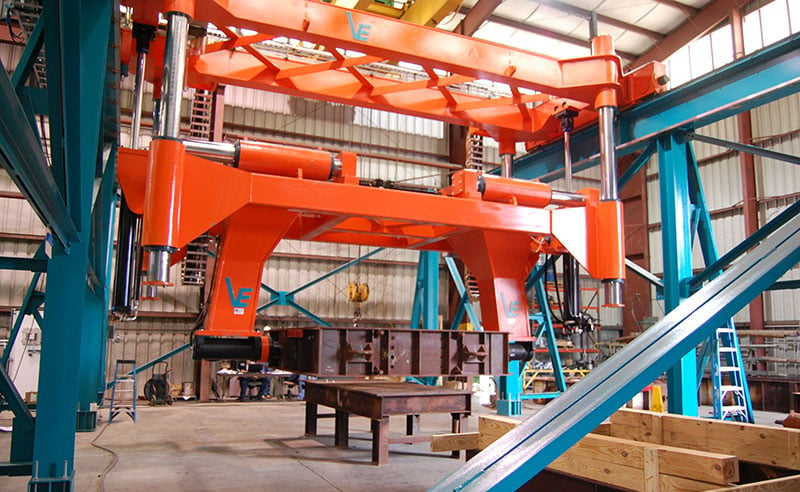 Vulcan Engineering offers mold rollovers, rollover draw, and rollover closers for flaskless and flask nobake molds.
Donovan™ mold handlers, a product of Vulcan Engineering Co., offer a more safe and efficient way to handle the nobake molds in your foundry. The use of slings, chains and some other manipulators on the market lack the control of the mold that is inherent to the Donovan™ design. Donovan™ mold handlers have a long-standing reputation in the foundry industry for dependability and low maintenance. They offer
superior control of the molds and can provide these major benefits for your foundry:
Enables fewer people to handle heavy molds with minimum effort.
Controlled mold handling reduces the risk of damage to the molds.
Reduces the chance of costly injuries to your valuable employees.
Overhead crane hung models are available for both flaskless and flask type molds in standard models with capacities to 18,000 lbs. Custom designed units have been built with capacities of over 50,000 lbs.
Donovan mold handlers are available to clamp the molds from the ends or with the "picture frame" type to clamp large molds from the side.
CRANE HUNG MODEL FEATURES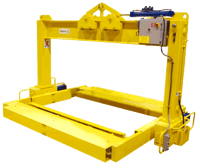 Handles complete molds or rolls over and closes mold halves.
Automatically holds molds level or switch to manual and use the push button controls.
Self contained hydraulic system.
Mounts easily on your hoist, monorail, jib or bridge crane.
Holds mold securely in any position for setting cores, venting, cleaning and closing.
No belts or chains to maintain.
Controls are easily accessible and protected behind the loop handles.
Flaskless models utilize gripper pads with replaceable hardened spikes to securely clamp the mold.
Adjustable squeeze pressure with a squeeze indicator gauge is also provided on the flaskless models.
Trunion adapters are available to fit individual foundry requirements.
Gantry type units are available in standard models with capacities of 1,000 to 18,000 lbs. Custom engineered units can be furnished to meet your individual requirements.
GANTRY TYPE ROLLOVER/CLOSER FEATURES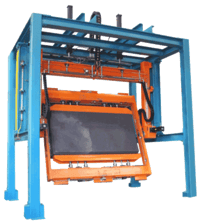 Can access multiple conveyor lines for greatly flexibility
Faster cycle times than crane hung units
Handles a large range of mold sizes
Manual operation or fully automated
Improve production efficiency and provide a safer work place in your Nobake foundry, consider including a Donovan™ mold handler in your foundry's capital plans. For more information on Nobake equipment, contact Vulcan Engineering today!